How do I create a Dropbox submission folder and associate it with a grade item?
To associate a Dropbox folder with a grade item you can either have an existing grade item or create one after.  I would recommend creating one first.  This will allow you to organize and plan your activities better.
To create a grade item first go to Assessment > Grades. Once there make sure you are at Manage Grades. Click on New > Item and create your grade item from there.
Now you can set up your Dropbox submission folder.
Go to Assessment > Dropbox.  Under the heading Dropbox Folders click on the New Folder button.  This will open the New Folder interface where you can set up your new Dropbox submission folder.
There are several parts of this interface that you will need to fill up.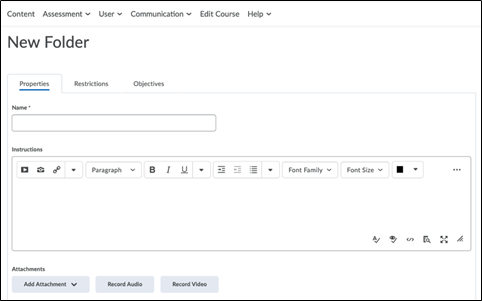 The Name field is a mandatory field and will identify the folder. In practice it is a good idea for the folder name and the grade item name to match to avoid confusion.
The Instructions field, while not mandatory, will describe the activity and define what you expect your students to submit.  Keep in mind that anything you write here will appear and be readable on the Content tab once you publish it there.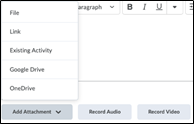 The Dropbox submission folder will also let you attach different types of media to your Dropbox, often used as reference material or resources for the activity.  You could make attachments to a file, an existing activity within the same course on Bigsky, external link, Google Drive, or Benilde Drive.  It will also allow you to attach an audio or video recording.
Submission, Completion, and Categorization
Assignment type
Assignment type is where you identify if the activity is for submission by an individual or a group.  The Group Assignment criteria can only be selected if there were groupings made ahead of time.
Submission type
There are four (4) categories of submissions:

File submission is selected when the student is required to upload their activity.  Files that can be uploaded are text files (txt, doc, docx, pdf), audio, and video files.
Text submission is selected when the student only needs to type something in the text box provided.
On paper submission is selected when the student submission is offline and is a paper submission.
Observed in person is selected when the activity requires the student to execute something that will be observed such as a presentation or a skit and there is no upload required.
Files allowed per submission:

Unlimited is the default setting which means the student can upload as many files as required.  In case it is a single file submission, then it is best to select
Submissions

You have three (3) options when it comes to accepting submissions

All submissions are kept will literally keep all submissions, including wrong submissions.  So, if a student was supposed to upload one file but uploads 10 then you will receive all 10.
Only the most recent submission is kept will overwrite the last submission sent.
Only one submission allowed will not allow the student to submit again once a submission has already been sent.
Category
It is always better categorized your Dropbox folders just to have them organized, but it really isn't necessary.  For example, you could create a New Category called Activities for Dropbox folders created for activities.
Evaluation and Feedback
Indicate the perfect score in the box the appears after Score Out Of.
In Grade Item you have the two options:
Click on the dropdown and select the grade item corresponding to the Dropbox folder.
Click on New Grade Item to create a New Grade Item if it doesn't exist yet.
Student preview will display the perfect score.  It will only appear if the Score Out Of is filled out.
Rubrics is a good tool to use when grading our students but isn't necessary to create at this point.  You can always create it later and associate it later before you grade the activity.